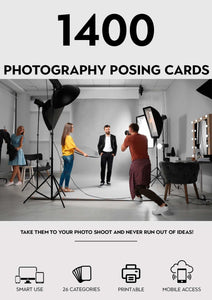 Have you ever been in a situation where you arrive to a photo shoot, go through some main poses quickly and run out of ideas how to get maximum out of this shoot? You feel something is missing...Some extra poses would have done the trick...

It's fine, don't worry - everyone has been there...even us. The main point is not get into this situation ever again. Obviously, the more experience you get, the more references you have in your mind, the easier it becomes.

But how do you get experience instantly, you may ask?

Well, It's quite simple - by using our cheat sheet: 1400+ Posing Cards Premium Edition.

Any model/photographer can use it. You can also always come back to them before and even during a photo shoot. They are structured into categories, so you won't have to browse through all of them to find the right one you need.

"This product is like having a complete posing encyclopedia in your mobile phone". - Ben K., a professional photographer from London, UK. 

"As a beginner model, I've been struggling to get my posses right during photo shoots. Once I bought this posing cards collection, I got more confident  and know exactly what to do now." - Alice M., a model from New York, US.

✅ Make your Photo life easier and take all the guesswork out of posing.
✅ Save valuable photo shoot time.
✅ Take your photography to the next level.
✅ Make posing 5 times easier.
✅ Easy mobile phone access at any time.

Just open a category you are planning to shoot or you are shooting and look through the cards with descriptions.

Who will find 1413 Photography cards useful?
Beginner photographers
Beginner models (or anyone working with them)
Experienced photographers, who want to upgrade their knowledge base
The product includes:
1413 posing cards in 26 Categories.

⭐ Moreover, they come in two formats: pdf and jpg to make your life easier.

Take them to your photo shoot and never run out of ideas! Come back to them at any time.

Access from a mobile phone, computer, print them out - use any way you want.  
Categories
Autumn 59
Bikini 31
Boudoir 24
Business 57
Children 20
Christmas 99
Emotional portrait 47
Family portrait 61
Fashion 85
Female Portrait 88
Friends 26
Holiday 27
Love story 32
Male portrait 35
Newborn 77
One child 53
Pets 47
Pregnant 45
Sport   88
Spring  91
Street style 58
Summer 77
Travel 45
Wedding 62
Wedding details 27
Winter 52
 Grab This 1400+ Photography Posing Cards
For Just  $400   

$44.99 Today !
ENJOY!!! :) Feel free to email us any questions via info@creative-deals.com