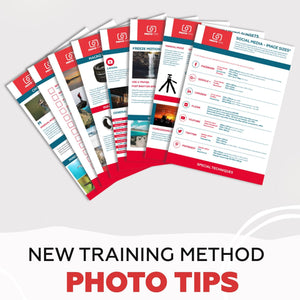 Be the first to enjoy our new revolutionary photography training method called "Photo tips".
By far the most straightforward form of learning and achieving results in photography.
You may ask WHAT ARE "PHOTO TIPS"? The answer is simple - it's a well structured and easy-to-follow cheat sheet in your phone or a camera bag.
The reason for creating this format came from talking to thousands of beginner and intermediate level photographers. Most of them told us that the biggest discouraging factor that stopped them from applying what they have learned is:

"I could not find fast and convenient way to quickly remind myself of what I've studied and use this in my current photo-session" 
The issue itself is quite simple - you go through great photography training videos, read books, view video workshops. You do this in your office or at home.
However, when you are in the field, not at the comfort of your own home, you sometimes forget that useful tip that you had in the video you saw last week or within the course you passed last month. 
Imagine what will happen if you you attend an event that you've been waiting for a long time? Sometime stress gets in the way lets you forget about white balance, using raw format, correct framing for the shoot or even you experience a problem with exposure.
That becomes a big deal as that opportunity, that once in a lifetime chance, can even ruin your image as a photographer. This is a real issue.
 That's exactly what we have been aiming to deal with and the solution is "Photo tips". Well structured, printable or accessible on your mobile phone while you are on the way to a shoot, this product will definitely help you get out from the tricky situations before they happen.
 It's not a book that will stay at home, not a lengthy lesson that you will have to look through again and won't be able to find your answer in time. This is an amazing portable photography training material that will be with you all the time.
Buy today and get each photo tips card a discounted price. In addition to that you get full support - feel free to ask any photo learning questions to info@pro-photopresets.com.
 That's an amazing deal! Get it now while the offer lasts.